Finding the perfect dress may be difficult. The pressure is undoubtedly on while shopping for a wedding dress since you've probably never tried one before and because it's often the most costly item of clothing a woman will ever possess. Tulle, A-line, fit-and-flare, organza, sheath, etc., could make it seem like a new language. The fact that many brides are wearing two dresses—one more formal for the ceremony and another more casual for the reception—can make buying even more difficult.
This wedding dress-buying advice will help you to how to select the best wedding dress of your dreams, regardless of your preferences, timeframe, or price.
How to select the best wedding dress of your dreams
Decide your Dress budget
It's a good idea and necessary to have a dress budget or pricing range. Your hunt for your ideal dress begins here. When planning your budget, consider the cost of making the necessary adjustments. Inform your advisors of your pricing range so they can point you in the appropriate route.
Start your research
There is no such thing as starting too early. Every bride enjoys the pleasure of discovering their dress after they get engaged. Start your search online, on social media, or in wedding publications before making appointments. Every season, new fashions and trends are introduced. To have enough time to visit every store on your list without feeling rushed to make a choice, we advise giving yourself ten months before your wedding.
Size and Fit
You may believe you have discovered the dress because you like every detail, from the beading to the lace, but you may need more clarification about the fit since the sample dress is either too large or too small. Don't worry; ask your consultant if there is a gown with a close fit and form in your size that you can put on. While it may not be the dress, doing so might help you picture the garment you like and encourage you to say "yes" to it.
Body type
Not the least important factor is your body type. While your favorite celebrity may look stunning in a mermaid-style dress, you may not feel at ease or like your best self. Although there are no restrictions on what you may wear on your special day, start with our body type guidelines.
Read more about- Perfect guide to choosing brides dresses
Most famous wedding dress trends for bride
The key to selecting the perfect dress is picking one that complements your body type and personality. Learn about the most common clothing trends and choose which will help you look your best on the big day.
The top is slim with a fitted waist and a gently flared outseam. This style, which has an "A" shape, suits most body shapes.
The ballerina dress is ideal for displaying your ankles and legs since it is often thought of as a length rather than a silhouette. In a vintage-inspired wedding, this eccentric dress would look fantastic.
The ball gown, which features a boned bodice and a voluminous skirt supported by crinolines, is a timeless option for a traditional wedding. If petite, ensure your ball gown is carefully made to match your frame.
A high waistline with a low bustline is a hallmark of the empire dress. Such a garment may conceal a narrow waist and a bulky lower torso.
This dress may fit the bill if you want something to show off your hourglass form. This dress is included in the torso before flaring out at the knee. Kneeling or dancing, however, will be uncomfortable in it.
You may want to know: Snow wedding in Georgia for Dubai residents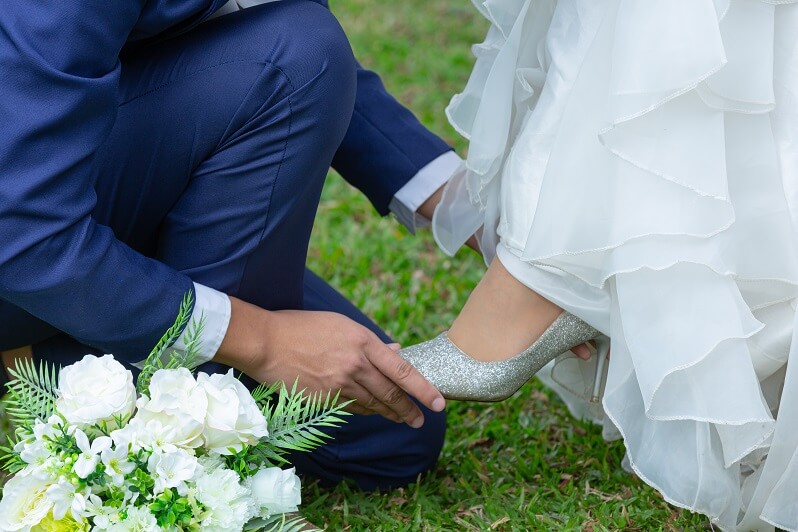 Before the wedding, decide on your theme
Choose if you want a relaxed wedding with a garden party vibe or a formal, elegant event before you start clothing shopping. The last thing you want is your dress to conflict with your overall wedding style, so always keep the location and theme in mind while you explore dresses.
Locate a Fantastic Bridal Salon
Before setting up appointments, do your research since you want to avoid visiting a store that doesn't sell the desired gowns or has poor customer service. Find stores with a good reputation by asking married friends for recommendations and reading internet reviews.
Call the salon in advance

.
Save time at a store with the style, designer, or price point you were looking for. Get the dirt on the store's or salon's inventory over the phone before you go.
Select three words to describe the dress of your dreams
Have a clear idea of how you want to appear on your wedding day before you start looking for dresses if you wish to feel elegant, vintage, and comfy or romantic, glamorous, and gorgeous. You may limit your outfit options by using three precise adjectives to characterize your feeling.
Be at ease and stop searching
If you keep looking at gowns after choosing your perfect one, it will drive you crazy. I like yours! Enjoy showing everyone on the big day for the time being.
Everything depends on confidence
In their unique way, every bride is lovely. You don't need to attempt to appear like someone else or feel bad about yourself if you don't look a specific way. Because of how much they adore you, they are getting married to you. If you're picking a wedding dress, seek something that makes you feel beautiful like you, comfortable, and confident. Your grin and the images you take on your wedding day will reflect how beautiful and sure you feel, adding to the enchantment and romance of the day.
It isn't easy to get married in Dubai, even if you reside there, particularly if you're an ex-pat. Be ready to go through a lot of paperwork if you still want to say your vows in this magical city. Your work will be made considerably simpler by Dubai marriage lawyers. In Dubai, Sharjah, Abu Dhabi, and other UAE emirates, you may seek our experienced family and marriage Lawyer's legal advice.